Employment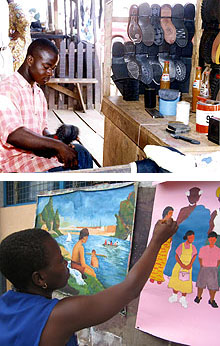 Since 1998, FHI has impacted over 500 lives. These disabled children and youths, together with their parents/families as well as their teachers, have benefited and gained employment. Here are some examples:
- 150 deaf students have become productive through computer training and are using the internet/computers for gainful employment
- Some 200 deaf JSS/SSS graduates have gained employment in carpentry, tailoring/seamstress, hairdressing, textiles manufacturing in batik, tie and dye
- 25 cripples are shoe/sandals makers and tailors/seamstresses
- 15 parents/families have gained employment through micro financing.
- Around 60 staff workers of the school in which we are working have learned skills in computer training, some of which have gained part time employment.
FHI has donated various tools for disabled people to find or create work, in sectors such as carpentry, tailoring, shoemaking.
Can you donate materials gifts-in-kind? Please click here to fill a form.