Training & Development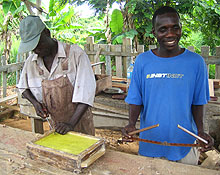 Children receive training right from the start in primary education where their foundation for handicrafts is laid. They are introduced to simple Art and Craft work in addition to their academic subjects. They continue from the primary through JSS to acquire skills training in fundamental vocational and technical subjects such as carpentry, shoe/sandals making, textiles (batik, tie & dye), hair dressing, tailoring/dressmaking, soap/pomade making, sign writing, typing and introduction to computer.
These achievements are made possible through the support and collaborative efforts of GES and Government sector ministries, FHI sponsors, donors, partners and well-wishers in Sweden, UK, the Netherlands, Canada and other NGOs as well as the management and staff of all the special schools we work with.
Can you join us? Then click here to fill a form.