What does FHI do?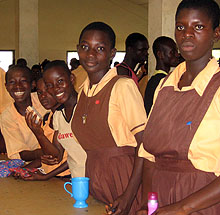 The mission of FHI is focused on the well-being and wholeness of people with disabilities in various forms (deaf, blind, cripple and mentally retarded), especially children of school going age. The development activities started with rural outreach programmes where most children with disabilities are deprived of basic education, neglected and discriminated against. FHI took the initiative to comb through the rural areas, identifying, enrolling and sponsoring such children into their special schools.
Sponsored children depend solely on FHI throughout the period of their basic education. They receive direct educational materials such as school uniform, text/exercise books, pens/pencils, erasers, chalks, boarding facilities like beds, foam mattresses, blankets, bed sheets, buckets, house/chapel dresses, shoes/sandals, personal provisions like chop
boxes/trunks, washing/toilet soap, sponge, towels, sugar/beverages, powdered milk, etc.
FHI supports the various development projects of schools in which our sponsored children are trained and educated - including the provision of computers for schools laboratories, carpentry tools for skills training, machines/equipment for shoes and sandals making, tailoring/dressmaking and hair dressing.
FHI also helps the parents of sponsored children to raise their living standard and reduce poverty, and needy parents become beneficiaries of FHI Income Generating Activities where funds are given to parents for gainful employment.
It also helps train disabled youths to acquire skills, finance and builds sheltered workshops for the youths who have graduated from the JSS and SSS (or school dropouts who have acquired skills) to set up small scale industry/employment for themselves.

FHI intends to establish a Vocational/Technical Complex, a Sign Language Centre Polytechnic and/or a University for the Deaf to put in place the non-existence tertiary education for the deaf in West Africa.
Can you help us to realize our dreams? Please click to fill a form.
FHI Update 2012
FHI Update 2011