Education > Blind Department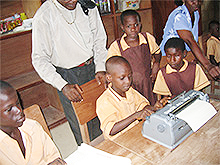 The Special Education Division of Ghana Education Service (GES) established a Unit for the Blind at Cape Coast School for the Deaf in the 2001/2002 academic year to cater for the visually-impaired children of school-going age, particularly for those in the Central and Western Regions. Previously, blind children in these regions travelled far away to Akuapem Akropong School for the Blind in the Eastern Region, the only blind school in the Southern sector of the country.
Blind pupils also go through mainstream education as part of the inclusive programme. They are educated in Braille, mobility, orientation, mathematics, reading and writing.
Pre Nursery/Nursery
Primary From the Nursery Department
Junior Secondary School (JSS)
Vocational/Technical Department
Blind Department