Education > Junior Secondary School (JSS)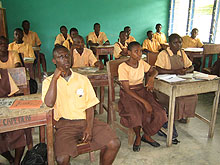 In accordance with the latest educational reform, the school's former Middle School was converted into a Junior Secondary School (JSS) in 1987. Pupils study a total of 12 subjects including English language, Mathematics, Science, Social Studies, Cultural Studies, Agricultural Science, Life skills, Vocational skills, Technical skills and Technical
Drawing, Home Economics. The JSS course is normally three years duration but in the case of the deaf, they are given an additional year.
A Preparatory JSS (a one year preliminary course) is in place for the pupil who has successfully completed the primary course goes through prior to the JSS course. At this stage, in addition to the normal academic work, more emphasis is placed on fundamental vocational education in Art and Craft which was started at the primary school level.
With further on-the-job training after JSS, some pupils go into self employment in rural/cottage industry. At the end of the JSS course (4-year period) pupils are examined through the West African Examinations Councils (WAEC) Basic Education Certificate Examination (BECE) and are given appropriate certificates.
Pre Nursery/Nursery
Primary From the Nursery Department
Junior Secondary School (JSS)
Vocational/Technical Department
Blind Department