Education > Primary From the Nursery Department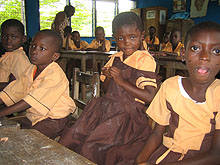 Pupils who perform creditably are admitted to the Primary Department. There have been a few instances where, owing to their advanced ages, some pupils without prior nursery education have been admitted (this is however not advisable).
The Primary Department goes through a six-year course in subjects including English language, Mathematics, Science, Agricultural Science, Life skills, Cultural Studies, Social Studies, Physical Education, Group Speech, Directed Activity and News. Children in this Department are aged between eight and 19 years. This is because the onset of deafness as a disability can occur at anytime in one's life. It is during their primary education that the foundation for handicrafts is laid. They are introduced to simple Art and Craft work in addition to their academic subjects.
Pre Nursery/Nursery
Primary From the Nursery Department
Junior Secondary School (JSS)
Vocational/Technical Department
Blind Department